Coping Skills - Toolbox
Quick tips and tools to use when confronted with obstacles
Life can be very challenging. Finding ways to address, cope or deal with the success, failures, unexpected situations and life transitions that we experience daily can sometimes be overwhelming. Dolly and Associates can help empower and support you to confront and deal with these challenges. Here are a few tips you can use daily to make your life a better place.
Create A Healthy Lifestyle
Make Your Workday Easier
Use and prioritize lists to help you focus and get started.
Give yourself stress breaks. Walk around the building, have a cup of tea or coffee. Take a few moments to yourself.
Interact at least once each day with someone at work who makes you laugh.
Plan activities in your personal life that give you personal satisfaction.
Get to work early when you can.
Look ahead at your next day each night before you go to bed to help you be prepared.
Balance Your Work and Family
Make balancing family and work a family effort.
Teach and encourage responsibility.
Establish a schedule that works well for you and your job.
Find appropriate child care. Always have a back-up plan in case of an emergency.
Establish rules for calls at work. Take your child to work some day. It makes it easier for children to understand and accept your absence.
Reduce Your Stress
Get the rest you need.
As you wake, focus on what you want from the day.
Develop a morning routine that combines stretching, breakfast and a positive mental attitude.
Let your problems teach you new solutions. Do your best and get on with your day.
Learn how to relax. Practice slow, deep breathing, meditation, journaling and thought stopping.
Invest in your well-being, eat healthy foods, drink lots of water and exercise regularly.
Make room for positive people and fun activities in your life. Play!
Resolve Personal Conflicts
Listen without interrupting.
Acknowledge the other person's opinions and interests.
Calmly state your views, needs and feelings.
Change the language of conflict— don't use words that blame, accuse or demand.
Conflict escalating words are: you, but/and, always, never, would, should and could.
If conflict escalates, suggest discussion at a later date.
Learn How To Cope With Relationship Problems
There are times in all relationships when things don't run smoothly. Often, this is because people have conflicting expectations, are distracted with other issues, or have difficulty expressing what is on their minds in ways that other people can really hear and understand what is being said. Here are a few tips to practice enhancing the relationship.
Be aware of what you and your partner want for yourselves and what you want from the relationship.
Let one another know what your needs are.
Realize that your partner will not be able to meet all of your needs. Some of these needs will have to be met outside the relationship.
Be willing to negotiate and compromise on the things you want from one another.
Do not demand that a partner change to meet all your expectations. Work to accept the differences that you see between your ideal and the reality.
Try to see things from the other's point of view. This doesn't mean that you must agree with one another, but rather that you can expect yourself and your partner to understand and respect your differences, your points of view and your separate needs.
Feeling a bit anxious and uncertain. Take the Stress Quiz.
Feeling a bit anxious and uncertain. Take the Stress Quiz.
Take the Personality Challenge
Stress is a part of life! It can either be debilitating or rewarding. How we perceive and respond to life events influences our levels of stress. How are you coping and managing with your stressors. Find out with this stress skills test.
Interestingly, stress can have both negative and positive effects on our physical, mental and emotional health. It is therefore very important to manage your perceptions and responses. Dolly and Associates is ready to help you to learn more effective ways to manage your stress.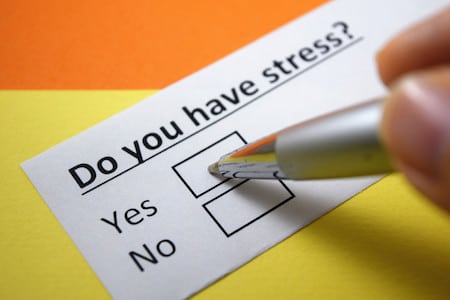 Feeling a bit down, take a quick test